Welcome to Breakfast, Life & Dinner
Confidence in the kitchen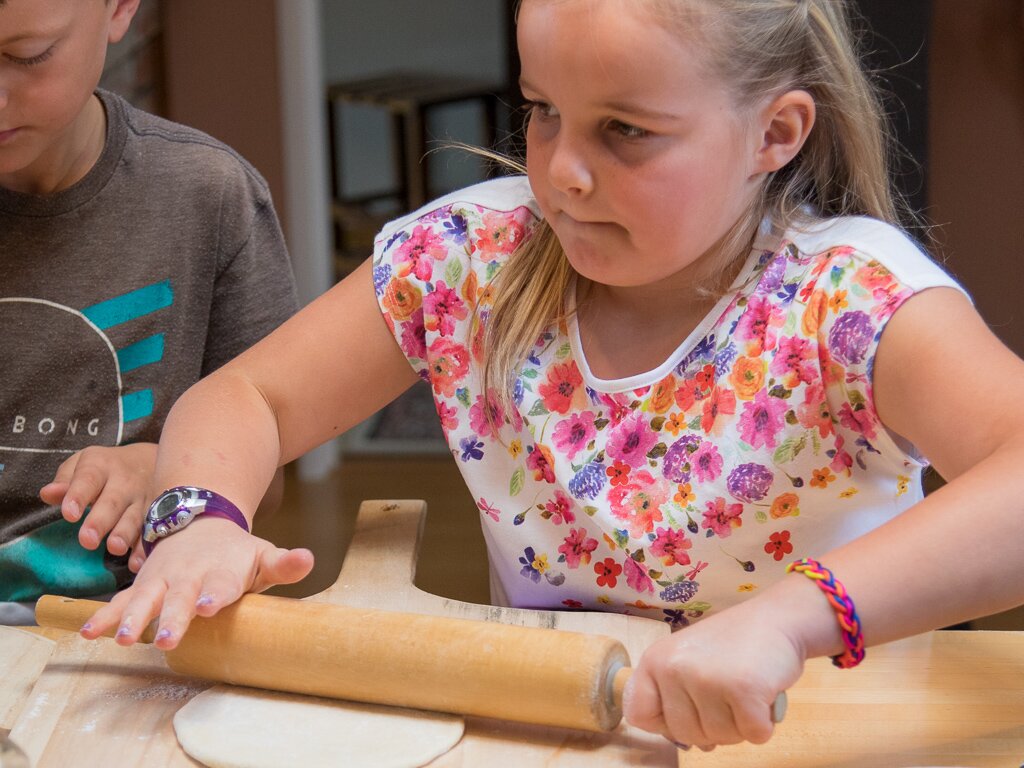 Cooking is easy and fun

Cooking at home is cheaper and healthier

Home cooking lifestyle

Dining is a team sport

Having the skills to choose to cook at home

The Food Days app is a way to r

econnect with old favorites

Open you up to new ingredients and cuisines

Share your efforts with your community
Magic Moments of Discovery:
Learning Confidence in the Kitchen
Take your cooking to the next level! Whether you are just getting started or you've been cooking for years, there are always wider opportunities to learn more about food, techniques, and cuisines. Learn with local cooking coach Adam Wisnewski, as seen on his Kitchen Confidence segment on the WCIA Morning Show.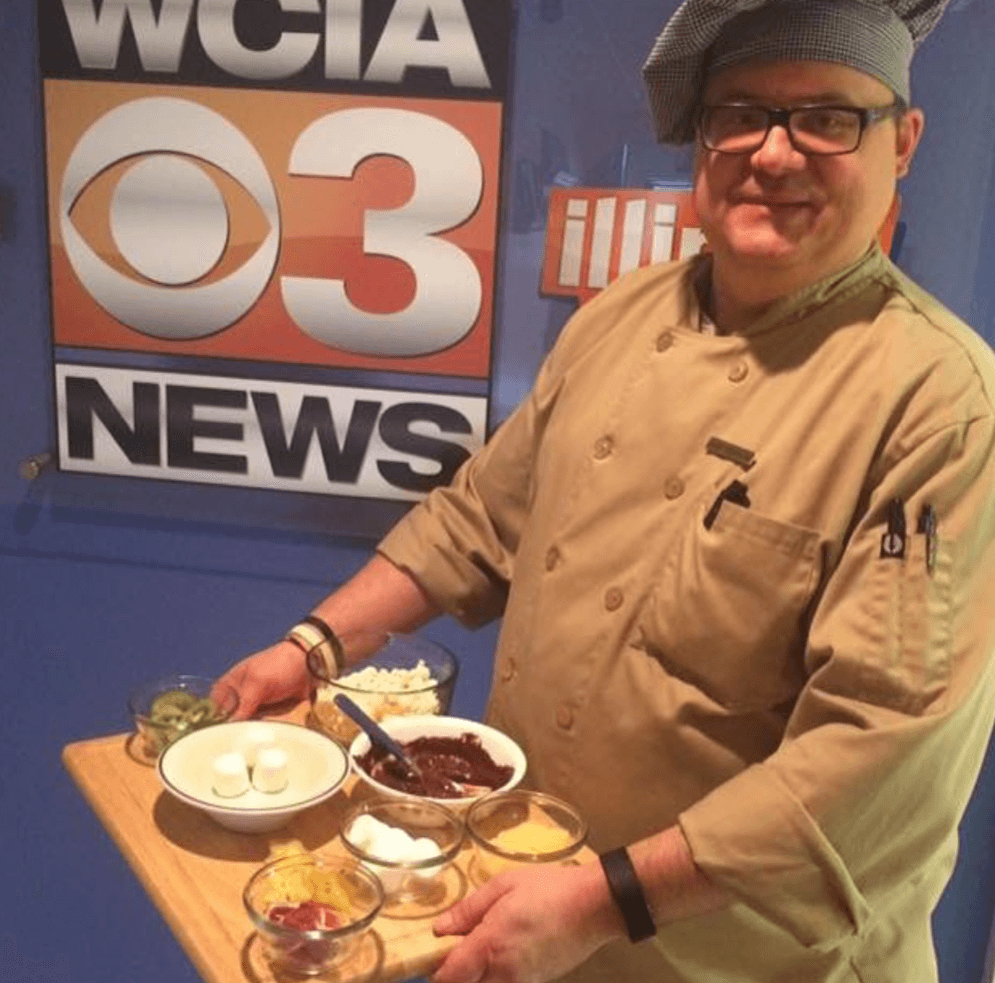 Speedy, 60 minute class is perfect for kids, busy families, team building events, ongoing cooking coaching lessons, or just a fun, creative way to learn Confidence in the Kitchen.
Gain the skills and confidence to make planning, shopping, preparing and cooking an *adventure*, instead of a chore.
Mix-and-match simple hands-on lessons (knife skills) or demos of the more complicated recipes (make ricotta cheese from scratch!) in a 1 hour virtual class. Liven up a weekday evening or a weekend afternoon! Virtual classes are only $60 for up to 3 households, and we can add more people to the video class quite easily.  (Refer friends for free classes!)
Pick a combination of lessons for a 1 hour class: I will provide a recipe card ahead of time, to make sure you have all necessary ingredients.
Refer a Friend:  For every three households that join, you get a free future class!
Mix and Match up to 5 Topics in the 60 min Virtual Lesson
* Plain counts as 1
* Bold counts as 2
* Bold/lined counts 3-4
Knife skills

Knife sharpening

Organize your work space

Slice and dice

POPULAR

Split a chicken
Bake bread

Easy Focaccia  POPULAR
Cornmeal dinner rolls
Pizza dough
Corn bread
Tortillas 
Biscuits
Scones/Muffins
Sauces/Seasonings

Mayo

Mustard

Wasabi

Tomato

Dressing/Vinaigrette

Remoulade/Big Mac

Cornstarch

Cheese/Roux

Soy Ginger

  POPULAR

Muhammara (Walnut)

Dry rub

Curry powder

Pesto
BBQ
Pesto  POPULAR
Alfredo  POPULAR
Gravy

Dairy

Butter

Yogurt
Ricotta cheese  POPULAR
Paneer cheese
Mozzarella cheese
Labneh/Hangop – strained 
Meat

Buffalo shrimp
Roasted chicken
Seared and baked steak
Braised catfish
Baked salmon  POPULAR
Make stock
Perfect broiler burger
Mix-in broiler burgers
Roasted pork tenderloin
Oven baked ribs  POPULAR
Crab stuffed mushrooms
Catfish broccoli wraps
Toaster oven cornish hen
Puff pastry ham'n'cheese
Vegetables/Nuts

Blanched Veggies

Quick Pickle

Should be

POPULAR!

Roasted Veggies

Roasted Chickpeas

  POPULAR

Baked Potato

Hummus

  POPULAR
Make broth
Butternut Squash Soup
Mashed
Spiralized Zoodles  POPULAR
Cauliflower rice
Cashew butter  POPULAR
Roasted garlic
Coleslaw
Eggs

Hard Boiled Eggs

Separated Eggs

Pickled/Fermented

Scrambled

Poached
Deviled
Omelette
Breakfast

Smoothie

Oatmeal

Crepes  POPULAR
Pancakes
Dutch Baby/German Pancakes
Oat cakes
Mashed potato cakes
Breakfast Pasta
Dessert

Whip cream

Chocolate Fondue

  POPULAR

Frosting

Grilled Pineapple  POPULAR
Sorbet/Sherbet
Mug cake for one  POPULAR
One big cookie
Puff pastry Nutella Strudel
Apple Crumble
Broiled peaches  POPULAR
Cheesecake bites
Cupboard cleaning

Tupperware/containers

Pantry
Freezer
Presentation

Food Storage Tricks

Plating

Place settings

Cheese plate  POPULAR
Baking, Desserts & Decorating
Kids love to bake and decorate. Learn with local cooking coach Adam Wisnewski, as seen on his Kitchen Confidence segment on the WCIA Morning Show.
This holiday season, entertain the visiting family or buy a gift certificate for your young cooks.
1 hr demo classes – fast, easy and fun. $60 for up to 4 students – see all the possibilities at
2 hr hands-on classes – bake the bread, decorate the cakes, learn how to cook from scratch. Starts at $250 for up to 4 students, groceries included
Gain the skills and confidence for making the sweets that will delight.